Michelle Klimchuk Harp Performance &Private Music lessons in Harp & Piano
Harp Performance for all your special occasions:

Weddings
Banquets
Bridal Showers
Baby Showers
All Occasion Parties
Corporate Events
Promotional Parties
Business Meetings
Anniversaries
Birthdays
Art Exhibits
Memorials
Retirement Homes
Restaurants
Hotel Lobby Entertainment
Cocktail Parties
Church Services
Schools
Grand Openings
Business Events
Customer Appreciation Events
Trade Shows

& Much More.
Michelle KlimchukPhone: 778 -571 - 1232Email: michelle@harpistforhire.ca

​
Check out my facebook
page for upcoming performance, photos, videos clips & more.
From classical to the treasured old favorites to modern day popular and show tunes, Michelle Klimchuk plays the music you love to hear. Any occasion is enhanced by music from the harp with its enchanting sounds that caress the ear.
The angelic soothing sounds of a harp at your special event is the perfect solution for every occasion. It adds an air of classiness to any event from a garden wedding, trade show, museum exhibit opening, business convention or maybe a small anniversary party.
Professional Harpist, Michelle Klimchuk is available for harp performances for all your special occasions in the Lower Mainland area of British Columbia. I will play in all areas from Vancouver to Abbotsford. I have studied music extensively with the Royal Conservatory of Music & Trinity Western University in the areas of Harp, Piano & Voice.
Notable studies: Harp & Piano with Marguerite Wilson. Advanced Harp Studies with Miya Otake & Kaori Otake. Master classes with Alice Giles
I have had over 25+ years experience in professional harp performance. I also teach harp & piano privately at my home studio as well as at Aoyama Harp of Canada. Over the years I have played for thousands of weddings and events. I have played at restaurants, hotels, coffee shops supermarket grand openings and countless other unique venues.
Some of the most interesting experiences I have included playing my harp for prison ministry at a local penitentiary as well as playing for the grand opening of a Brake and Muffler shop.

I have also had the privilege of being able to play for a surprise party for Bryan Adams.

I am open to all opportunities to share my music. I play a wide variety of musical selections which include anything from Classical to Popular Tunes.
I have I also am a member and perform with the West Coast Harp Ensemble.
A quick note of trivia, Michelle also shared the stage with world famous performer Michael Buble as the both performed in the early 90's at a charity function.
Michelle's professional attitude and warm entertaining nature are what you have been looking for to entertain you and your guests at your next special event.
Michelle has a remarkable versatile repertoire music that everyone can enjoy which she presents with equal poise from the auditorium stage, the chancel, or in intimate social setting. But Michelle isn't just an entertainer, she's an experience.
Create the perfect ambiance with Live Harp Music!!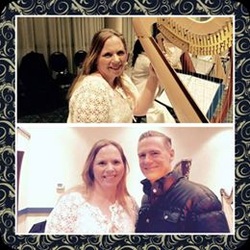 What an amazing experience and opportunity to be able to play for a surprise party for Bryan Adams!
---